Critters, Macro, Photography Tips
3 Comments »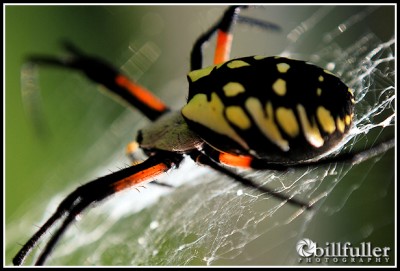 I believe this big spider is referred to as a Yellow Garden Spider.  Found on a Holly bush on my front porch.
Photography Tip: I shoot most of my macros with a Tamron 90mm f/2.8.  However, if you are interested in shooting close-ups, but would like to try a less expensive route, then you might want to get a reversing ring for your 50mm lens.
The above shot was done with a Nikon 50mm f/1.8 lens and a BR-2A reversing ring.  The lens attaches to the ring (where a filter normally goes) and then the ring mounts on the camera, making the lens backwards.  This gives you about 1:1.1 magnification for approximately $150 total (lens plus the ring).  There are some downsides though…
You must manually adjust your aperture, and there is also a fixed focal point.  So in order to focus you must physically move the camera closer or farther from the subject, making focusing difficult with an obvious very narrow depth of field.  Finally, you must also get very close to your subject.  In the above photo, I was just a couple inches from the spider…  the image has not been cropped.