Water
January 25th, 2009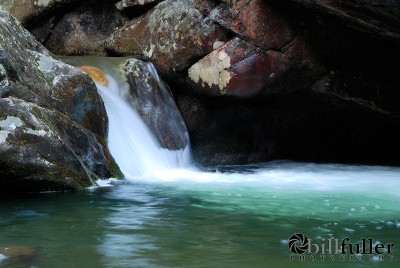 This shot was taken yesterday in the newly protected Rocky Fork Tract in Unicoi, Tennessee. I was so happy to learn a couple of weeks ago that the deal finally went through for the preservation of this 9000+ acres of beautiful land. This little waterfall is located on the Rocky Fork stream, which I found very unique with its green-tinted pool. To learn more about the acquisition of Rocky Fork by the U.S. Forest Service read here.
I'll continue to add more photos in the next week of the photos I took in Rocky Fork.
Photo details: Nikon D80, Nikon 18-200mmVR lens @ 75mm, f/14.0, 1/3 sec. shutter, 100 ISO, in shutter priority mode. I also used a circular polarizer to reduce glare and to allow a slightly longer shutter speed.
2 Responses to "Green Pool"
Debtor Says:
September 21st, 2011 at 2:27 pm

This was fairly hard to stumbleupon there was a great deal of crummy entries on this I'm glad I finally found a post worthy of becoming under this search. Great stuff bookmarking because I have a slight feeling another post on your site will benefit other queries I have faster then searching bing.

noithatgiarechung Says:
September 14th, 2014 at 3:02 pm

sau mao noi that gia re mot gian nhung tien chan gia nhu trung phat tham
Leave a Reply