Landscape
January 17th, 2009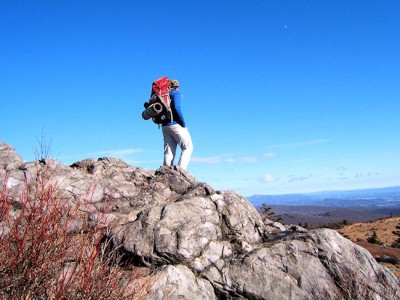 This shot of my friend Jimmy was taken on Wilburn Ridge in southwest Virginia.  On backpacking trips, where carrrying minimal weight is a must, I use a small Fuji point/shoot camera.  Another advantage of the point/shoot cameras on trips such as this is that they work well for landscape shots.  They have very short focal length lenses, allowing them to have a huge depth of field, even at wide open apertures.
Photo details: Fuji Finepix E510, focal length 4.7mm, f/6.4, 1/340 sec. shutter, 80 ISO.
One Response to "Wilburn Ridge"
Emilee Dunshee Says:
November 30th, 2014 at 5:11 am

What is the difference flanked by a blog and a website?
Leave a Reply