People
January 1st, 2009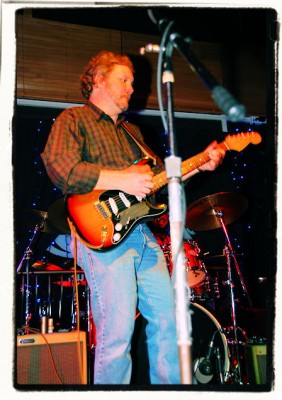 The "Electric Woodshed" playing at the Blue 5 in Roanoke, VA.  This guitarist is my long-time friend Craig Counts.  Since the Shed plays classic rock, I wanted to give this image a "classic" appearance, so in post-editing I used filter that mimics an older photo processing style referred to as cross-processing. 
Photo details: Nikon D80, Nikon 50mm prime lens, f/1.8, 1/60 sec., 100 ISO.  Flash fired with SB-600 speedlight.  Used "Cross-process" filter in post-processing. 

3 Responses to "Electric Woodshed"
Andy Balsis Says:
October 18th, 2013 at 3:02 pm

quite very good put up, i undoubtedly enjoy this web website, keep on it

Piper Spong Says:
October 31st, 2014 at 10:49 am

Thanks , I have just been looking for information approximately this topic for ages and yours is the best I have found out so far. However, what concerning the conclusion? Are you certain concerning the source?

Nicolas Pleppo Says:
December 2nd, 2014 at 4:21 am

I have a Blogger blog that is hooked out of bed to my own website. The genuine blog is associated sour of the homepage. I would like to know rider there's a widget or impressive that I can place on top of my website's homepage that will illustrate my latest blog posts. Not the full placement, other than perhaps presently the headline and a link to go to my blog..
Leave a Reply