LIght Box, Objects, Photography Tips
December 17th, 2008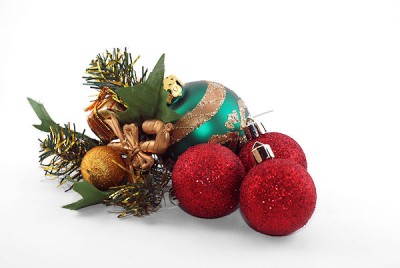 Photography Tip: To get the pure white background on these ornaments I used a homemade Light Box (also called a White Box).  I constructed it entirely from inexpensive materials around the house.  Here's how to do it:
Find a cardboard box (preferably no less than 12″x12″x12″, and cut off two of the opening flaps leaving the other two "doors".
Now cut out three sides of the box, only leaving a couple of inches of cardboard frame.  See photo.
Next find some tissue wrapping paper and duct tape, and tape the tissue over the three sides you just cut out.  I used two layers of tissue.
For the lights I used studio strobes, but plain ole shop lights or desk lamps would do the trick,  Simply move them in closer or farther away to get your desired lighting levels.  You'll also probably need to use the flash on your camera.
Now cut out a piece of white poster board to fit, and bend it into the back and bottom of the box to create a seamless background.  If you want to get creative with colors, you can use different colored poster board or even different colored tissue.
That's it!  Your done.
Photo details: Nikon D80, Nikon 505mm prime lens, f/9.0, 1/100 sec., 100 ISO.  Shot in light box with 3 strobes and built-in camera flash.

65 Responses to "Christmas Ornaments"
Leave a Reply