Critters, Macro
August 10th, 2009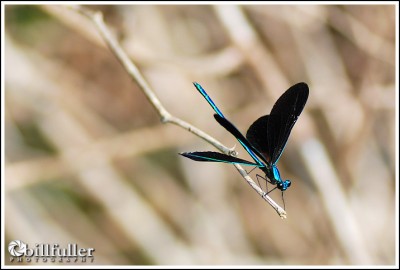 I believe this to be an Ebony Jewelwing Damselfly.  In comparison to Dragonflies, Damselflies normally have a very narrow abdomen and while at rest their wings tend to lay together just above the abdomen (as this one did, however I captured this image just before it took flight).  Damselflies also have eyes that are far apart, while Dragonflies have eyes that normally touch.
One Response to "Ebony Jewelwing"
Joy Lynema Says:
December 2nd, 2014 at 12:59 am

Just got a Blogger account, it works good quality, except how act I discover diverse users blogs I akin to with explore. I keep in mind present is a way, except I am not as it now. Thanks for your help..
Leave a Reply