Critters, Macro, Photography Tips
July 14th, 2009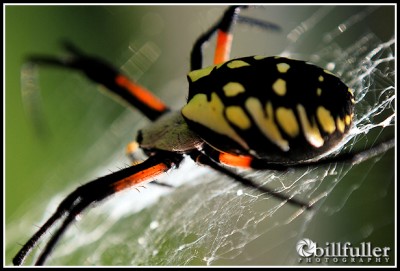 I believe this big spider is referred to as a Yellow Garden Spider.  Found on a Holly bush on my front porch.
Photography Tip: I shoot most of my macros with a Tamron 90mm f/2.8.  However, if you are interested in shooting close-ups, but would like to try a less expensive route, then you might want to get a reversing ring for your 50mm lens.
The above shot was done with a Nikon 50mm f/1.8 lens and a BR-2A reversing ring.  The lens attaches to the ring (where a filter normally goes) and then the ring mounts on the camera, making the lens backwards.  This gives you about 1:1.1 magnification for approximately $150 total (lens plus the ring).  There are some downsides though…
You must manually adjust your aperture, and there is also a fixed focal point.  So in order to focus you must physically move the camera closer or farther from the subject, making focusing difficult with an obvious very narrow depth of field.  Finally, you must also get very close to your subject.  In the above photo, I was just a couple inches from the spider…  the image has not been cropped.
3 Responses to "Garden Spider"
Semler362 Says:
September 3rd, 2013 at 8:11 am

ure that items that are sold don't have any other conditions attached. Some may only pay a commission if the customer fills in the payment particulars at once. Should they choose an item and continue to shop, you might notbe given any revenue on that item. Another way to potentially lose commissions is if the customer clicks on any other links before they co

alba Says:
October 18th, 2013 at 4:47 am

Amazing picture! Buy cheap papers for studying at writing service

Rosalva Jergenson Says:
December 2nd, 2014 at 3:23 am

One important issue is that if you find yourself searching for a student loan you may find that you will need a cosigner. There are many cases where this is correct because you might discover that you do not possess a past credit score so the bank will require you have someone cosign the financial loan for you. Good post.
Leave a Reply