Abstract, Photography Tips
April 29th, 2009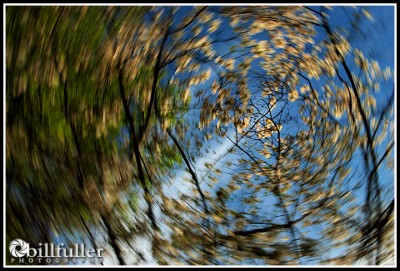 I thought I'd try something abstract, but I'm not sure if I like the result or not.  I get a little dizzy if I look at it too long. 

  Regardless, I felt it was interesting and fun to shoot, so I posted it.
Here's how I took the shot:
I was standing directly underneath a Dogwood tree.  It was a sunny day, and I knew I had to get a slower shutter speed to achieve the results, so I put a neutral density filter on my lens to reduce some light.  I then closed the aperture down to f/29.0 to cut off even more light.  I shot in manual mode, and when I metered I was able to get a correct exposure at 1/15 second shutter speed.  I would have liked something even slower, but I went with this setting.  I pointed the camera looking directly up into the tree, released the shutter, and then gave the camera a quick twist in my hands.
I think I'll try this effect again this fall when there are more colors in the trees to shoot, and I believe a cloudy day might also give a better result.
Photo details: Nikon D80, Nikon 18-200mmVR lens @ 34mm, f/29.0, 1/15 sec. shutter, 100 ISO.  Shot with a neutral density filter.

13 Responses to "Dogwood Abstract"
Leave a Reply