Water
January 27th, 2009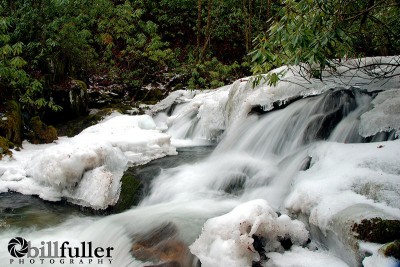 Here's some more from the beautiful Rocky Fork stream that I shot this past weekend…
This waterfall is normally a series of three small falls, but depending on water levels it can be one large cascade, or at low levels it can be five very small falls. It's a pretty little spot with easy access, making it (I would guess) the most photographed area in the entire Rocky Fork Tract. On my recent visit, it was almost frozen over.
Photo details: Nikon D80, Nikon 18-200mmVR lens @ 18mm, f/11.0, 1/5 sec. shutter, 100 ISO, in shutter priority mode. I also used a circular polarizer to reduce glare and to allow a slightly longer shutter speed.
One Response to "Frozen Trio"
Photograph Review Says:
October 7th, 2012 at 2:07 pm

This site truly has all the information and facts I needed concerning this subject and didn't know who to ask.
Leave a Reply